Camper Van vs. Adventure Van
With the recent craze that has set in over Adventure Vans, many of you might be wondering— what exactly is an Adventure Van? An Adventure van resembles, but also differs from, a classic Camper Van in many ways, and with this article we're hoping to break it all down for you.
Many accredit the arising trend of Adventure Vans (usually built into Sprinters, Transits, and other utility vans) as being the continuation of the Go Westy Volkswagen era. Many adventurous young adults would wander around the world in Volkswagen Vans before settling down into their careers and responsibilities. Originally the popular adventure van was a Volkswagen Van, with an added pop top of course. However, this van is highly unreliable as there have been no recent attempts to change the van according to modern standards and needs. Because of this, many choose instead to go with the much more trustworthy Mercedes Sprinter Van. The youth of today are taking the paths of their parents, and actively seeking a good adventure.
When looking at a Camper Van and an Adventure Van, only one comparison can really be made: livability. Most people have spent time in a Camper Van, and if not at least seen one. Classic Campers are equipped with a kitchenette, bed(s), living space, and a bathroom/ toilet. ADF's Sprinter Camper Vans usually contain all of these things as well. Adventure Vans also have a bed, living space, and sometimes a bathroom/ toilet and kitchen (designs and accessories are different depending on customer). Both can provide comfortable and efficient housing temporarily or permanently.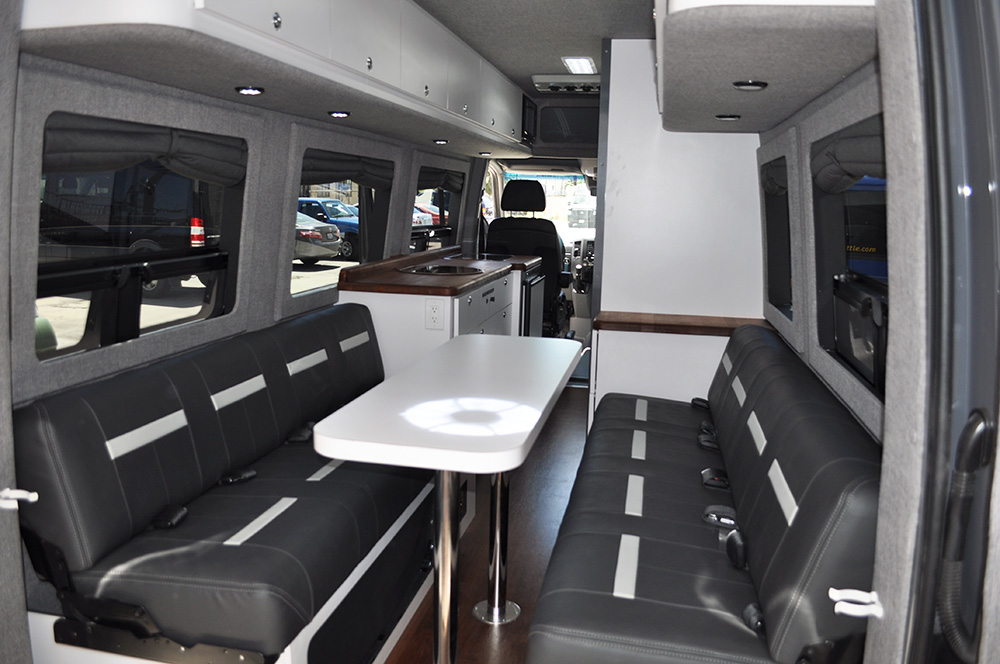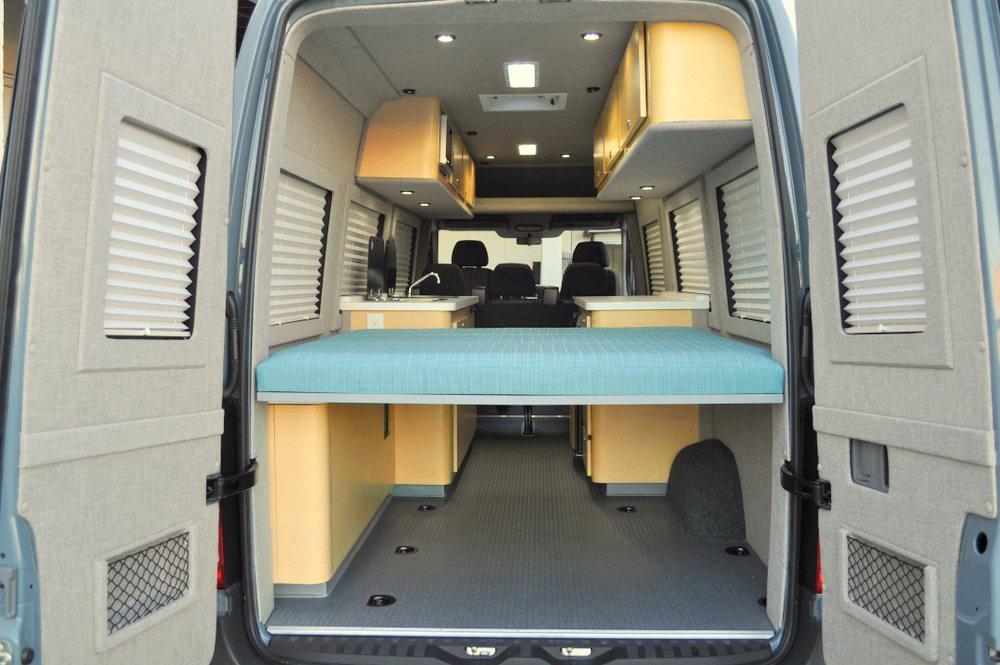 Now for the major differences. Camper Vans are built for a comfortable, and almost luxurious, outing at a campground. Those on the camping trip want all of their normal living necessities close by, like a bed, bathroom, kitchen, etc, and they usually plan on staying at the campsite/ van for a large amount of time. ADF's Camper Vans are designed to be mini houses that adhere to a minimalist life. They're built for comfort and style so you can have the most enjoyable trip possible. Adventure Vans, on the other hand, are built to be more modular and space efficient. Those who dare choose an Adventure Van usually do so because they want to lug around surfboards, bikes, kayaks, and really anything else. The van is meant more of a transport vehicle that doubles as a hotel room if need be. Unlike in a Camper Van, Adventure Vans don't always have bathrooms or toilets, and if they do they're usually porta potties or something similar. Adventure Vans are custom built to your hobbies, and designed to fit all of your toys. We have different systems for all sports and hobbies, ensuring that everything you want fits into your van. In regards to a shower, we can attach a hand-held shower head in the rear of the van, which allows it to also double as a wash station. Adventure Vans enable you to go where ever you want to do whatever you want, because of their dynamic design.
While many of our Adventure Vans find themselves somewhere in the middle between Camper and Adventure, our customers are beyond content with the vast storage space and livability standard. Campers are very reliable for the family that wants to see the outdoors, but Adventure Vans are perfect for the wandering soul that wants to experience the outdoors. Whether you're an extreme biker or enjoy surfing in your free time, you will find Adventure Vans very efficient, and you'll wonder how you survived without it for so long. If you're looking to embrace the nomad life, or just have a weekend getaway, our custom vans will ensure that you have a life-changing experience. With both Sprinters, ADF has so many options for customization, and you don't necessarily even have to pick one. Mercedes offers many different Sprinter sizes to cater to all of their customer's needs. If you and your spouse are looking for a getaway van, consider the shorter 144 version. Or, if you plan on making it a family vehicle, consider the 170 or 170 extended to give you the maximum amount of room. All Sprinters also come with the option of a low or high roof. Find the perfect Mercedes Van for yourself and your travel companion(s). Contact us if you have any question about either style. We're happy to help anyone get outdoors!