Whether you live in California or just visiting, this is the one state where you'll see more converted vans than any other place. It may be the alluring beach towns, the pleasant temperatures year-round, or maybe that we have more national parks than any other state. While plenty of other states have beautiful beaches, good places to eat and a variety of outdoor recreation – California has the best combination of all of the above. 
Those are just a few explanations as to why this is the best state to embrace van life. For a period of time, many visitors often rented RV's to road trip through the state and explore all that it has to offer but most recently that has modernized into renting camper vans. A campervan rental gives you the flexibility to go at your own pace, drive through more urban areas and experience the true California lifestyle. Plus we've already curated a list of the best places for a van road trip. 
Here are the 5 reasons you need to rent a camper van in CA – 
Switch Up The Typical CA Vacation
Almost every travel blog offers the same Best Places to Visit in California list and all of them always involve some type of outdoor recreation. From hiking Yosemite to adventuring in Big Sur and driving through some amazing cities like Lake Tahoe or San Diego. While you can still visit all of these spots in your typical RV or stay at a hotel, a camper van rental will expand your options while immersing yourself in the community and nature.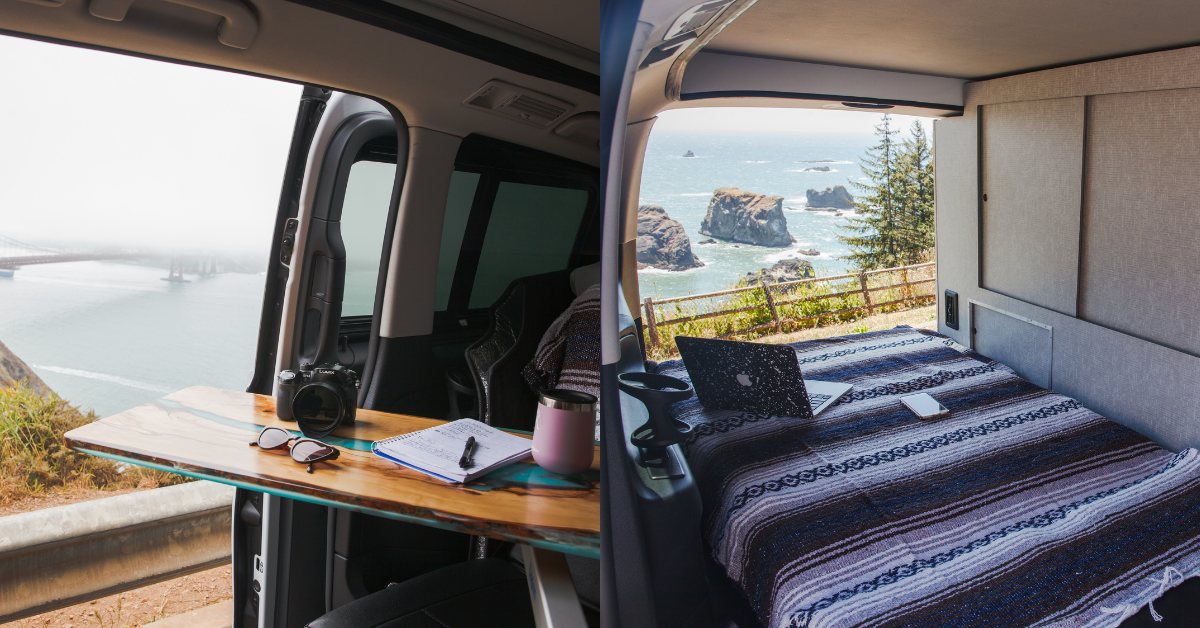 Instead of visiting one area or town, you can rent a campervan and visit multiple cities and be more spontaneous with your vacation. Love the location you are staying at? Spend another day there, you don't have to check out of a hotel or catch a flight to another city. With a home on wheels, you can stay in the comfort of your own quarters and get to the next destination on your own time. Here are a couple more reasons to stay in a rented campervan – 
Save money 

Visit different cities 

Travel at your own pace 

More spontaneity – freedom to go where you want and when you please  
The Best Campsites
Do you love to go camping? Renting a camper van is an alternative to normal tent camping and makes it much easier because you have your accommodation and transport all in one. Setup is a breeze and you also have a full kitchen on board, which means you can save money on your food budget. 
California has more than 13,0000 available campsites in over 300 state parks and counting. Using a campervan, rather than an RV, allows you to stay in the most tent-only campsites. As long as there is a parking space on the campsite, your campervan will be good to go. Popular campgrounds need reservations at least 6 months out through Reserve California, but dispersed camping (or BLM land) does not require any booking – It's first-come-first-serve and you can stay there for up to 2 weeks long. Here's what to know about Camping in a campervan in California.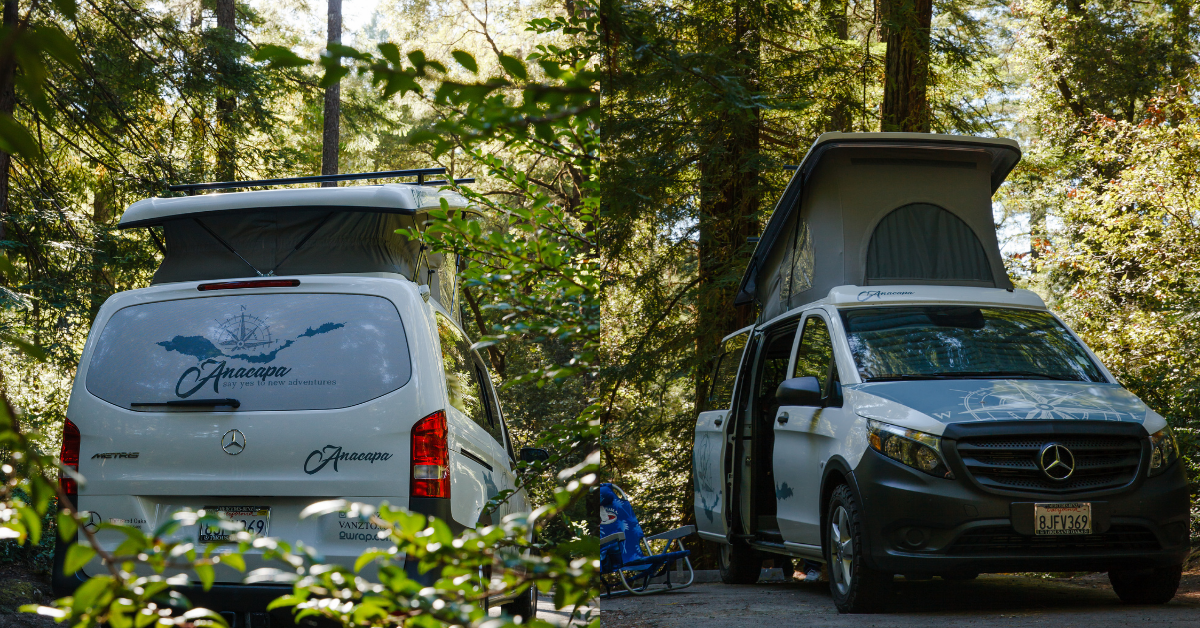 From Surf to Snow
It's called a "Twofer" and it's the name used for when you can snowboard or ski and surf on the same day. There aren't many places you can do this outside of California and renting a camper van makes it more possible than ever. If you're in Southern California you can surf in San Clemente then head up to Big Bear mountain. If you're located in Northern California then surf San Francisco's Ocean Beach then make your way to Boreal. It's a bucket list for many of our van rental customers as it's the ultimate way to switch up your views and have fun doing so. 
If you can't make it during the winter, one of the best times to come is August and September because it's less crowded but still nice out. Take a look at these Fall Road Trip Ideas.

See if Van Life is For You
You've possibly thought about owning one, maybe even follow #vanlife on Instagram but the idea of having your own adventure van keeps coming up and something you're contemplating. Well, one way to see if it's right for you, is to give it a shot and try it out – Renting a campervan will be the test as well as an extremely fun vacation. 
Say you rent one of our Metris Ancapa van rentals and like it so much that you're considering getting one for yourself, we actually have a few more Metris Campervans for sale if that is the case. 
Your Friends Will Love It
Another one of the many reasons to rent a campervan in California is that your friends living here will appreciate it just as much as you. Most van rentals seat and sleep up to 4 adults and have everything you need for a week or month on the road (minus food). If your friends live in SoCal make a trip with them up north and explore, or vice versa. It's a budget-friendly option instead of getting hotels or larger motorhomes but the same freedom of exploring. 
Campervan Rental FAQs
How much is a camper van rental? 
The camper van rental price changes depending on which model you get and how long your trip is. An average price range is $150-$300 per night although that may be lower by the more days you stay.  
How old to rent a campervan? 
It varies from company to company, but the standard age for renting a campervan is 25 years old similar to renting a car. However, some companies offer young driver fees if that is needed. 
Can I buy it if I like it? 
If you're in love with the exact van you rented, feel free to inquire about purchasing it after its current term of rental is finished. Otherwise, we can discuss options to build an identical one for you.
What do I need to bring? 
Most campervan rentals come with everything you'll need to cook, but you'll still need to bring along bedding, food, & drinking water. Our van rentals come with a fridge, 2 burner stoves, camping pots and pans, and all the utensils you'll need. The vans will be prepared with a full fresh water tank and emptied the gray tank.