People choose Van Life for different reasons and live it for various durations of time. Still, whether you decide to use a Van Conversion to be weekend warriors or dedicate years on the road, we help break down the different van conversions to make both lifestyles comfortable.
Part-Time Van Conversion 
When choosing to convert a van into a part-time camping conversion, it's because you love adventures but for shorter periods. You may take the van out for a long weekend or even for a month, but this conversion is one you don't call home. It takes you out to explore new destinations, efficiently houses all of your gear, and brings you back to a home with four walls. We would classify this style of conversion as an Adventure Van, rather than a Van Life Van. When designing an Adventure Van conversion, space allocation and storage space will look a lot different. Often these Adventure Van layouts will use more space for gear storage for things like mountain bikes and snowboards while compromising a bit on that extra large bed and bathroom. A part-time van lifer is looking to do more of what they love, and an Adventure Van Conversion themed campervan will support those passions. An ideal layout will lead to you using your Adventure Van more frequently, for more uses, than you ever imagined at the start of your journey. 
Sprinter Van Conversion Living Full Time
Full-Time Van Living sounds just like it is! You've decided to ditch your apartment or house and move into a home on wheels. Whether it is for economic reasons or the calling of thousands of adventures, either way, you have decided to call the Sprinter Van your home. The more minor details are much more important to you because your van may still be used as your mobile office, as it is your bedroom, workout space, kitchen, bathroom, and more. You have far more freedom with this lifestyle, and it is liberating by all means.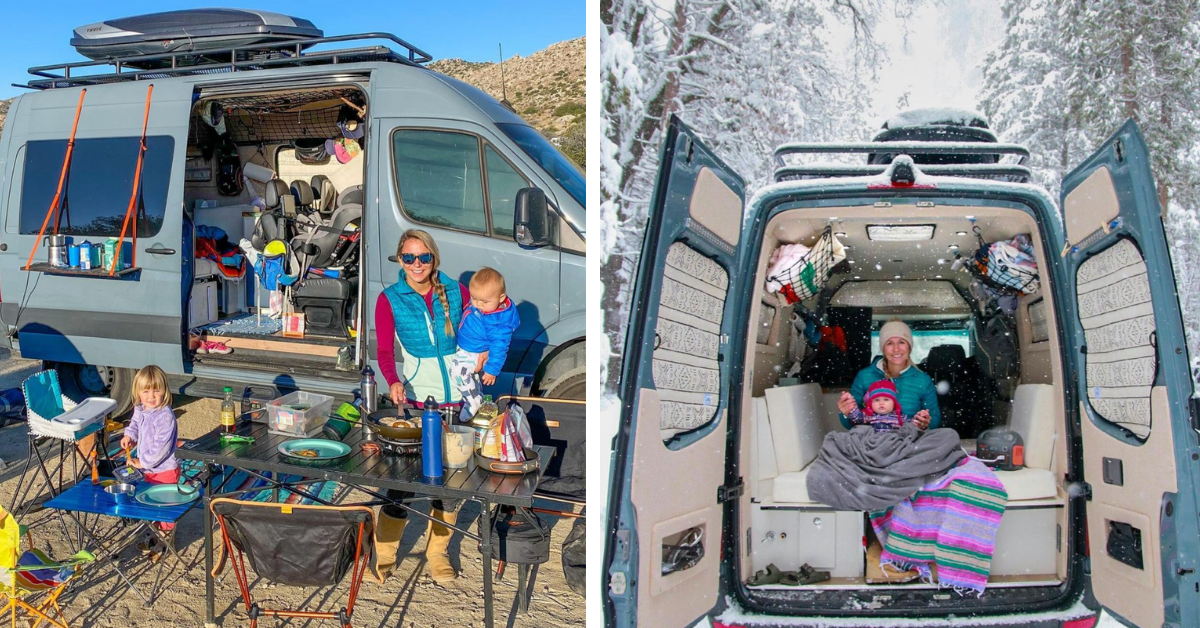 Here are the main differences between the two van conversions – 
Bathroom
In your conversion, the bathroom might be the one layout that looks significantly different if you choose to van life part-time or full-time. For instance, if you fall into the Adventure van category, more likely than not, you frequent campgrounds more often to tap into their accessible amenities. Off-grid camping is well within the realm of an Adventure van, but the interior layout is not designed specifically around the privacies of a home. You can use a cassette toilet without a full bathroom structure and shower outside the van with an integrated setup or  something like a road shower for quick and easy use. 
However, as a full-time van lifer, your access to a shower and an anchored toilette is limited if you aren't going to campgrounds or RV parks. Even more so, if you are staying at dispersed campsites, BLM land, or more remote locations, this might steer you in the direction of having an interior bathroom that includes a shower, toilette, and sink. You'll be remote for longer, and it's still important to practice consistent hygiene. It's also great for when you choose to travel closer to towns and cities as you can't just pop the rear doors open and shower in the back of your van.  With an interior bathroom, your privacy is secured and respected as much as possible. 
There are many conveniences when having your bathroom, but it also comes with a lot of responsibilities. Like in a house or apartment, your bathroom needs to be cleaned often and cared for appropriately to limit any smells, and you need to find designated dump stations when on the go. These are easy to find, but it is an extra step in your adventure. Be sure to consider all of your options, from portable campervan showers to installed composting toilets vs. a cassette toilet, and what will make you the most comfortable when on the go. 
Bed(s)
A comfortable bed is necessary, but the size and ease of assembly are other things to consider. It's essential to see what makes sense for you with Bunk Beds, Tri-Max Beds, Dinette Styles, and more. Some questions to consider are: 
Do you want to make your bed every day? 

Is a large and stable table more critical than a stationary bed? 

Do you want access to the rear of your van?

Are you going to want to carry extra gear? 
These will determine what bed is right for you, so don't skip over these details too quickly. 
A full-time conversion bed – You're probably going to want space to spread out if you're living in your van full time. Having something easy to set up or already stationary allows you to have designated sleeping space and keep it that way. Consider a van with Flare Windows because you then get an additional foot to layout, maximizing your comfort overnight. 
A part-time conversion bed – Comfort is still necessary, but the bed's versatility is more important. With a tri-max bed or dinette, you can utilize more of the space when you're not sleeping. This allows you to travel more people, gear, have more room to walk around throughout the day, and even use your van to haul day-to-day equipment when needed. 
Kitchen 
With hundreds of layouts to choose from, it's important to circle back to the question, what will work best for you? Some questions to consider are: 
Do you plan to cook? 

Is a quick microwave dinner or cup of noodles your go-to? 

Is the sink more so you can just wash up inside the van? 
We have seen van lifers have as little as a Dometic cooler and table settings as well as those with a full immersion blender and panini press. Like the world, the kitchen is your oyster. 
Burner & Stove 
A warm meal at the end of the day can bring your day of adventures together, so it's essential to learn about the best stoves and burners for van life. From portable dual burner camp stoves to cooktops, your options won't be limited, but what may be limited is your counter space, depending on which one you choose. This might be different when your kitchen counter doubles as your work desk as a full-time van lifer, and it could not even be a concern for part-timers who probably cook outside or get take-out. So decide what is important to you, whether that means more durable counter space for activities like food prep, working, or simply decor, or if a set kitchen is what will make van life better for you. 
Fridge 
The fridge of your van is something that's often overlooked, but incredibly important. Most people will want to choose a fridge that best fits their cooking style and diet. There are three different styles of refrigerators, all having different strengths and weaknesses.
Chest style: These are essentially powered ice chests. They work great when you're able to stack items on top of each other. They are the best option for portability and will generally be the most efficient option for your power system. Consider these when you bring a lot of beverages, have food that's friendly to being piled in, or want a portable solution. 
Cabinet mount with swing door: These are the most common styles which get built into the van cabinetry. They vary in size from something as small as 1.7 cubic feet, but we generally see them closer to 3 cubic feet. These will often include a small freezer section and provide shelving to better organize your fridge items. Use these when you shop for fresh food that cannot be stacked without damage. 
Cabinet mount with drawer: This fridge essentially takes the chest style design, but makes it something that can mount into a kitchen cabinet without some crazy drawer slide contraption. The drawer mechanism does take up some of your valuable fridge space, however. Consider this if you don't mind stacking food and beverages or have a tight interior layout that does not provide enough space for a swing door fridge to open fully. 
Pro tip for any fridge: make sure it is always full to increase the electrical efficiency! The more you have inside a fridge, the more thermal mass is there to maintain the cold temperature. This keeps the fridge from losing all of it's cold air every time you open the door. Because of this, the unit will not need to work as hard to cool itself back down when the door is closed. 
Sink
We consider sinks an essential part of any build, but the downside is how much real estate they can take up! There are a handful of options for you to choose from and vary in size, shape, and even features. If you want your kitchen to be a small part of your build, consider the Dometic Smev 8821  It includes a removable drainer, a folding top, and a tempered glass lid, as well as a single burner stove. For the part-timers, you can also utilize this water access as a quick shower when needed. For van lifers who want a more dedicated sink, we frequently install the Ruvati Workstation, which includes a deep stainless steel colander and solid wood cutting board when the sink is not in use. This elevates the style and performance of your campervan sink. 
Storage
Whether you choose to live part-time or full-time in a van, storage may still be an essential factor for both van lifers. It just comes back to the sole use of your van and what you plan to do with it. You will have plenty of space to store your smaller items from internal pantries, bench bins, and L-Track Mounting Systems. But if your intent is traveling to surf spots or mountain bike trails, keeping the bulkier and dirtier things outside might ease your mind. It allows you to separate your space even more and keep your van clean and cozy.  
Nonetheless, the amount of storage needed will depend on how much gear/equipment you will need. The key to a clean van is organization and having multiple storage options where everything has a dedicated place to maximize the space inside. That being said, write down everything you plan to bring and design the storage around those items. 
Batteries & Solar
In a world where power electronics technology is becoming more innovative and compact, you will see an increase in van lifers opting for solar panels and lithium battery power to run their vans. It's an eco-friendly setup that allows you to stay off the grid longer. When deciding what choice and size are right for you, it comes down to what you need to be powered by and how often! Someone who just needs to turn the lights on and keep their fridge cool will need a lot less than someone with a heater, AC unit, TV, microwave, induction cooktop, and more. 
Imagine your power system as a swimming pool. The size of the pool is related to the size of your battery bank. Each powered device acts as a drain on the pool's level. Things like LED lights, refrigerators, and phone chargers are relatively small leaks. 12 volt AC's, induction cooktops, and microwaves are more like a professional pool drainage pump. Adding solar charging is equivalent to filling your pool with a garden hose. The larger the solar system, the more that garden hose flows. Starting the engine, or plugging the van into shoreline power is more like filling that pool with a fire hose. It's significantly faster!
Using this analogy, it's a bit easier to visualize the design of your system. Start with factoring in and calculating the components that drain the pool. This can be done by charting the power that each device you plan to use takes and estimate your total power draw. Factor in roughly 20% over that number to account for inefficiencies in the system and items you may have forgotten. With your drains calculated, shift your attention to what fills your pool. The fire hose that fills your pool is likely a constant number based on your engine's charging system. Any pool filling done by solar is likely going to be space limited according to your roof layout. You can supplement the roof solar with these hood mount solar panels, or even portable solar panels. Keep in mind that your average solar input is going to be significantly less than what the panels are rated for. Especially during non-summer months. After you have a rough handle on the drain and fill numbers for your unique setup, you can calculate the size that your pool needs to be in order to sustain your system. Remember that AGM batteries should not be drained past 50%, while lithium batteries can be drained closer to 80 or 90%. If your budget is limited and you have to choose between more solar or more battery, always go with the larger battery. 
There isn't necessarily a pattern between the power system of an Adventure van vs a Vanlife van. This designation is much more closely related to individual lifestyles and uses of the van with the largest factor being the time that one wishes to remain off-grid without starting the engine or plugging into shoreline power.