While the decision to get a campervan may be simple, determining whether a custom van conversion or a prefabricated campervan may not be so obvious. Regardless of which option you choose, there are a few questions to ask yourself and things to consider before selecting which is suitable for you. So let's take a look at the different options.  
What is a Custom Van Conversion
A custom campervan is precisely what it sounds like – It is a van that has been converted specifically to your lifestyle and necessities. At ADF Sprinters, we understand that no two people are alike, so we believe in van conversions as unique and personal as the family it will be with. Whether you need a van that can seat and sleep eleven, have tropical-themed fabrics throughout, or a fully enclosed bathroom with all the amenities – These are details that we enjoy designing just for you. There are no shortcuts or kits in a custom van conversion, and because of that, the conversion process may take longer than simply strolling down to your local RV dealership to purchase a Class B that's in stock.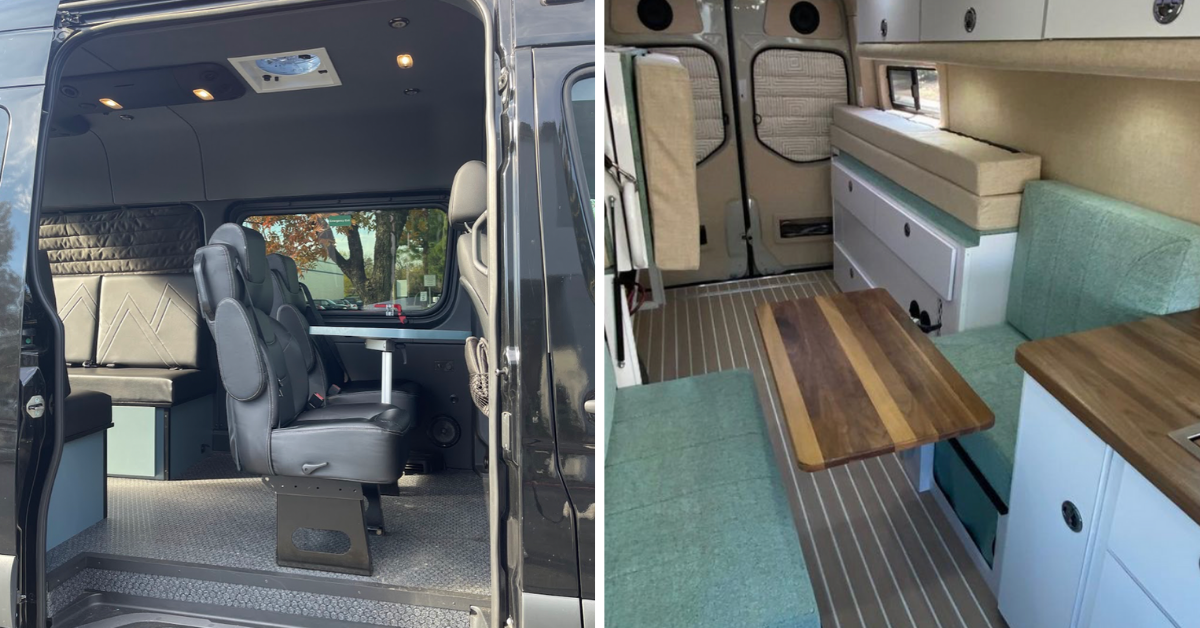 Here are a few reasons a professional van conversion company is better – 
You will get the experience and knowledge of a team that has built thousands of adventure and camper vans over decades in business. 

You will have different options to

finance the van conversion

. 

There will be an extensive warranty on the build and products used throughout the van. 

You will be able to choose the layout, style, and fabrications most conducive to you and your family's lifestyle.  

You can ensure the best quality products are going into the conversion so it will last as long as you are using it 

Mercedes-Benz-approved eXpert Upfitters will ensure your conversion is up to current FMVSS standards for safety and quality. Especially with seating systems
If you have already decided to go with a custom sprinter van conversion or want to see more examples of what a conversion might look like for you, click here to see some of our most popular designs. 
What is a Prefabricated Van Conversion 
A prefabricated van is a conversion with a pre-designated layout with few to no optional upgrade packages. The customer cannot change the design, features, colors, or fabrics in this case. Think Winnebago Revel, Storyteller Mode, or Coachmen Galleria. Essentially, what you see is what you get. It's important to note that a prefabricated van will have certain features that you don't need and might not be the ideal layout for your family's lifestyle and need, forcing you to make compromises on how you can use the vehicle. This information shouldn't deter you from making your decision though, as prefabricated van conversions have been a successful choice for hundreds of people. Just make sure to weigh the pros and cons of their layouts with how they integrate into your lifestyle 
Currently, Winnebago has been focusing its attention on the infamous 4×4 Revel, a prefabricated conversion built on the Mercedes Sprinter chassis. On average, this diesel sprinter starts at $202,401 for the base model, which sleeps two and travels four. Below, we've outlined a comparison between two conversions that are suitable for family travel – A prefabricated van, the Winnebago Revel, and a popular ADF conversion layout that lots of our customers have chosen as their design, The Tri-Max.
Customized Van vs. Prefabricated Van – Which One Should I Get?
If you're more inclined on choosing a prefabricated van, make sure to ask yourself these questions before choosing so.  
Is safe seating important in my build? 
Currently, the Revel has a wood-framed two-passenger bench seat behind the driver's compartment, which serves as additional seating. This seat is not a pull-tested or approved seat, and we cannot recommend that passengers use this van while the van is in transit. At ADF Sprinters we install full-framed Captain Seats that are pull tested to current Federal Motor Vehicle Safety Standards. These seats even include car seat anchors that allow you to bring your little ones along safely. A traveling family should consider this and ask, "Are we comfortable belting our kids to the wooden bench seat in a Winnebago Revel?" 
Does the Winnebago Revel have everything I need? Does it have too much "fluff"?
While a lot of accessories are great, you may find that you are paying for several items you don't necessarily need after a few months or even weeks on the road. If you don't know what features you'll want in your conversion, then consider renting our Mercedes Sprinter and test it out, take notes, and discover what your essentials are for your own campervan. 
How soon do you need your van? 
Van conversion companies all across the country are experiencing extended lead times on their conversions regardless of them being custom or prefabricated. These lead times can range anywhere from 4-12 months. Currently, Winnebago has a four-month (on average) wait time for their Revel, Storyteller is about 24 months backlocked, and ADF Sprinters currently has a 3-month wait time to start a new project. Most conversions will take 8-12 weeks to complete once they are started. 
So how long can you wait for your van? Call all the Mercedes dealerships you are comfortable traveling to and see their current wait times. It's important to note that pricing and availability will change day to day. 

ADF Custom Conversion vs. Winnebago Prefabricated Conversion 
Would you be willing to pay the same, or more, for a prefabricated van vs a custom conversion? Below we compare two van conversions, The TriMax, a custom 144" wheelbase by ADF Sprinters, and The Revel, Winnebagos 144" prefabricated conversion. These builds share similar features: a kitchen, seating for 4, a dedicated sleep area, and an open garage below the bed. 
ADF SPRINTERS – THE TRIMAX
WINNEBAGO – THE REVEL

144" Wheel Base

144" Wheel Base 

Diesel Powered 

Diesel Powered 

Travels 4

Travels 4

Sleeps 2-4

Sleeps 2

TriMax Folding Bed 

Power Lift Bed

Under Bed Storage

Under Bed Storage

Porta-Potti Style Toilet with outside shower

Fully Enclosed Bathroom with Shower and Toilette 

Glass topped sink, induction cooktop,

microwave

Single Burner induction cooktop, sink, and fridge

36 Month / 36,000 – inclusive warranty

12 Month / 15,000 – mile basic warranty 

Customizable Options

Prefabricated Stock Layout 

$145,000 – $250,000

$159,000 – $212,000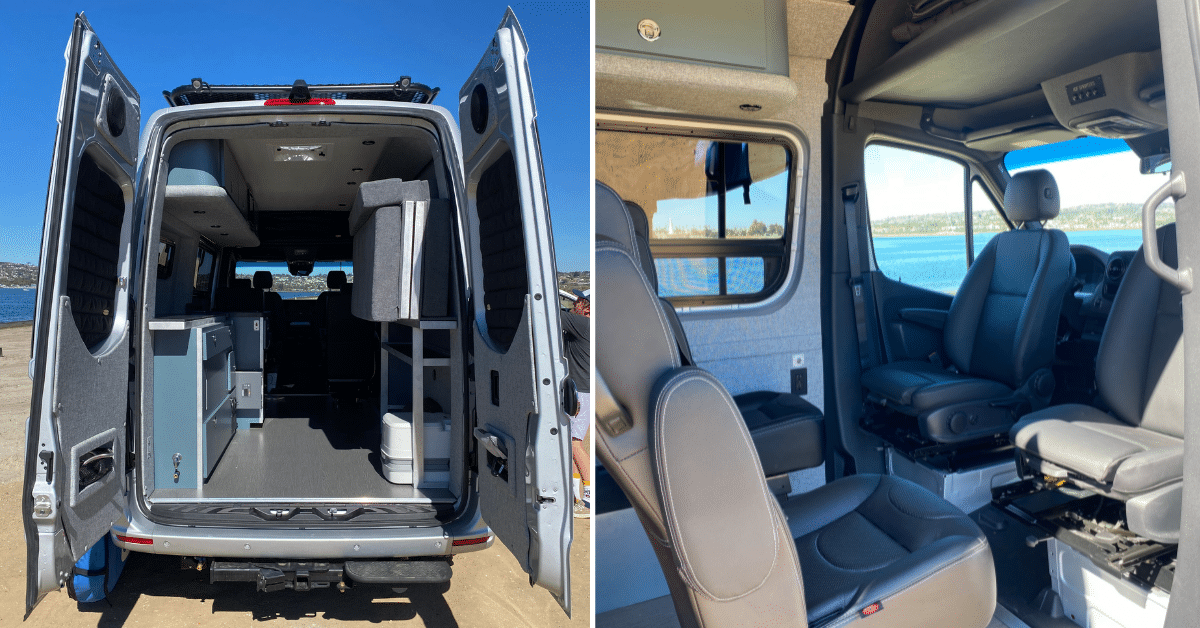 These total investment (van chassis included) prices were gathered in February of 2022 from Southern California dealerships. Pricing between a custom TriMax falls in the same range as the prefabricated 144" Winnebago Revel. This allows you to choose custom design elements and optional upgrades for the same price as the Winnebago Revel. 
If you're ready to take the next step and start your conversion design process, then reach out to our team at [email protected] to get started.