Van Conversion 101
Converting a Mercedes Sprinter van can be a little intimidating at first. There are so many questions running through your head and you just don't know where to begin. What van do I want? How much is it really going to cost? Where do I even start? I get it, I've been there. Whether you are wanting a custom Sprinter van created by an upfitter, or this is going to be a DIY project, there's a ton to think about. From personal experience in crafting my own DIY camper van, here is a list of 4 things you should know BEFORE getting started!
#1 Create a budget! (And be prepared to go over that budget)
It's exciting to begin thinking about all of the different options in a custom van. But very quickly, things start to add up. Without a set budget, you may be too focused on all of the exciting components of a camper van that you don't notice the total cost secretly growing. 
Here's my recommendation for you. Do a bit of research about the components that you would want in your camper and estimate how much those things will cost. Create your budget! Then sit down and write out all of the things you want in your van that makes it the perfect "dream van". Then compare the price of that "dream van" to your budget. If it doesn't cost more than your budget, great! If it does, start thinking about what things are not necessarily going to be needed. 
For example, is there a microwave in your dream van? How often do you really use a microwave at home? Personally, I was okay with cutting a microwave out of my dream van. By working through this, you can get a realistic idea of what to expect! It helps limit the number of curveballs being thrown at you!
Also, be prepared to go over budget. It happens! One day you may feel like splurging on the nicer floors, or a little extra decor, go for it! As long as you're not spending thousands over your budget, you should still feel pretty comfortable with where you are at!
#2 Know the type of Sprinter you want!
Mercedes Sprinter Vans come in a few different sizes! The most popular being 144", 170", and 170" extended wheelbase. There also different styles as well; crew, cargo, and passenger. Just like everything else, there are pros and cons to all of them! Here are some pros and cons that I've discovered through my own research.
144" Wheelbase
Pros
Has the options for both high roof and low roof

Perfect for daily a daily driver

Easy to maneuver 
Cons
Small space to work with/ not many options for layout

Not ideal for large groups or big families 
170" Wheelbase/ 170" extended 
Pros
Can fit plenty of passengers

The

options for layouts

are basically endless 

Perfect as a full-time live-in option
Cons
Takes a bit of getting used to driving

Can't fit in a normal-sized parking space 
#3 Know what is a priority to the build
If I'm being honest with you, there are some things that you will have to give up when it comes to converting a custom Sprinter van. Maybe it's that microwave that didn't fit in the budget, or maybe it's the full-size refrigerator that there wasn't enough room for. It could even be the design of the build itself! Whatever it is, it's always a bit disappointing. That is why it is important to prioritize and know what is a "must-have" for you!
If you begin by deciding which aspects of the build are a priority, you will make sure that those things don't get thrown out in budget cuts or layout designs. One of the most important things that I prioritized in my sprinter van conversion was a safe place to store my snowboard during the winter season. With all of the different layouts that I played around with, I made sure that my snowboard would have a home. Yes, I did have to sacrifice storage for other things, but I was okay with that because my snowboard was a priority. You see, eliminating things that you originally planned on putting in your camper is less scary when you prioritize what's important!
#4 Know what your ideal uses are
This statement could mean a few things. By this, I mean that it is important to know if you plan on using the van for weekend trips if you are going to live in it full-time, or where you plan on taking it. Knowing how you will use the van will help you make some decisions before starting to convert your camper van. Here's an example. When I began converting my Sprinter van, I knew that it was going to be used for full-time live-in. So I thought to myself, "Well a kitchen is a necessity if I'm living here. And I'll also need plenty of storage." These statements could be different if I was converting a camper van for weekend trips. In that case, I may have decided that I don't need a kitchen and could settle for a small outside grill. Which would completely change my layout? See what I mean? Decide first what the van will be used for, then go on to the next steps of creating your camper van conversion and hit the road!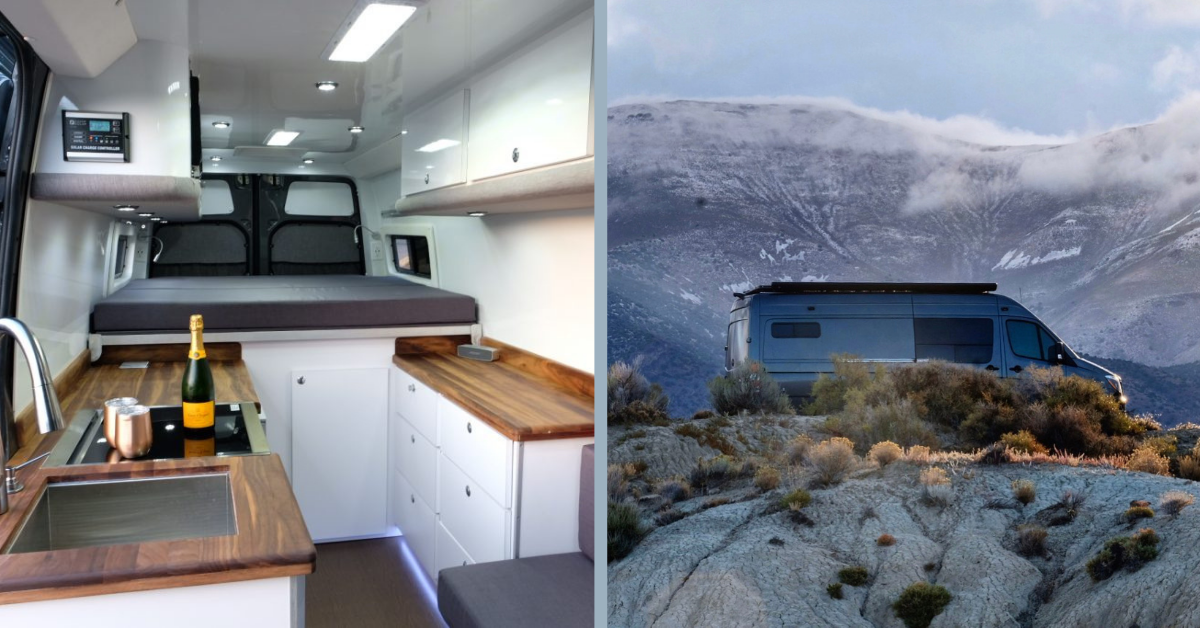 Ready to build a custom camper van
If you know your budget, have the layout picked out and the van is ready, then reach send us an email and we'd love to help make your camper van dreams come true. If you don't have all those things decided yet but you have some conversion questions, still reach out to us. sales@adfsprinters.com