The Need For a Family Travel Van
Kids don't remember their best day of television. However, they can recall that super fun trip to the desert or the road trip to that awesome national park with their family. A family sprinter van conversion is the perfect way for you and the family to enjoy the outdoors. When you design a custom family van around your lifestyle, one weekend it could be a quick escape to the countryside and the next is a soccer match with the whole team. Having a versatile van helps when you have a busy lifestyle with lots of family and friends.
"Camping with our kids is the best antidote we've found to the over-programming, screen time, and lack of freedom that kids grow up with these days. So when we're camping, we try to give the kids as much freedom as possible to explore on their own and make their own fun. Two things we always have with us that provide endless hours of entertainment, and have practical benefits as well, are walkie-talkies and a good shovel." – @afamwithavan 
Best Conversion Vans For Families
So what's the Best Sprinter Van Design Layouts to go with? The answer is, the one that is most conducive to you and your family's lifestyle and recreational activities. There is not a single all-encompassing family sprinter van conversion that fits all sizes, but instead multiple options for different chassis and add-ons for existing builds. Based on our experience and working with numerous families, here are the top design layouts for a family travel van. 
The Dinette Setup – A dinette layout is highly desirable because you have the ability to be able to walk all the way through the van and out the back. With a dinette setup, you will have a sizable dining table where the entire family can eat, play and work with ample room. In addition, this conversion creates a more functional entertaining space where multiple people can sit and enjoy each other's company – similar to a dining room at home. A dinette only converts to a single queen-sized bed, this leaves an opportunity for us to look at additional bed options for the rest of the family
Bunk Beds – Bunk beds aren't just for kids, they are used for numerous family sprinter van conversions and allow you to save precious space for other essential gear. These are highly desirable bed layouts for sprinter van conversion for a family of 4. We have designed and built a fixed platform bunk bed setup and also an electric bed, so let's take a look at each one. 
The most commonly used bunk bed is two fixed platform beds stacked on top of one another. By placing the bunk bed above the main bed, no extra floor space is taken up in your camper that can be used for other living areas. While this bed system doesn't offer much headroom, it has the ability to sleep for kids and adults. 
For the electrical bunk bed conversion, we install a HappiJac Power Bed Lift which controls the top bunk bed. This effectively maximizes existing vertical space, providing room for an additional sleeping area that can easily be operated by one person and activates with a simple switch to raise or lower the bed to any desired height. Having an electric bed is like having a static bed that appears and disappears into the ceiling at the press of a button. While this is an impressive solution, the system is expensive compared to other bed setups.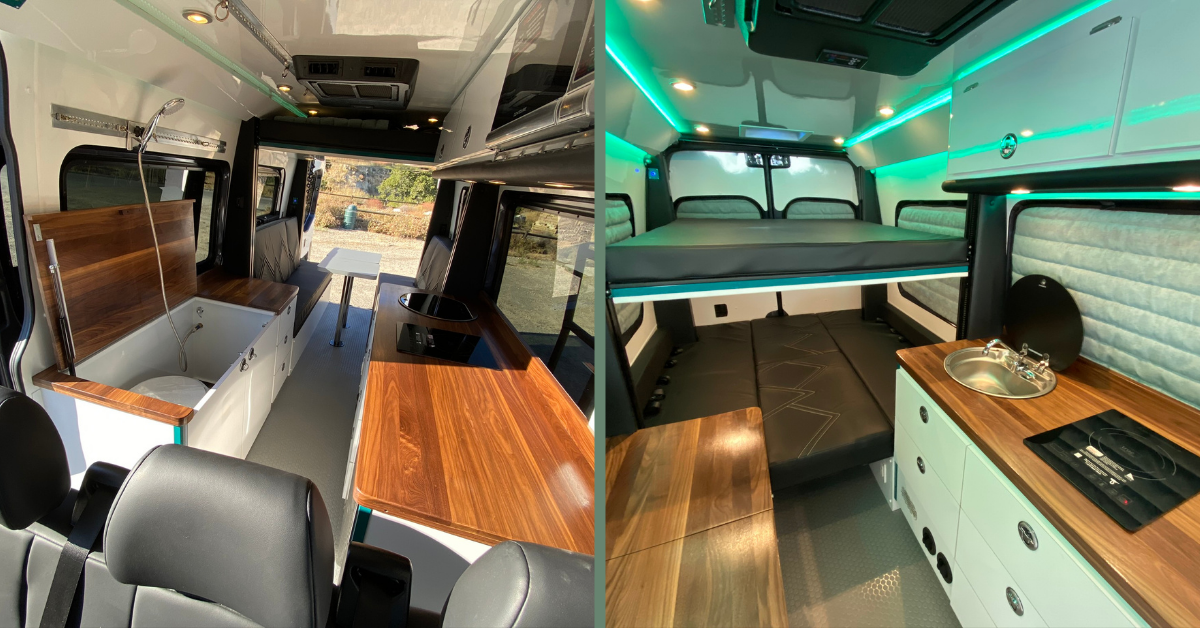 The Pop Top – A pop-top bed system is an option for both high roof and low roof vans that is growing more in popularity. This is a versatile option because the bed integrated into the pop-top allows for more space below and the ability to increase the number of passengers in the van. It also adds an ample amount of headspace when relaxing in the lower section of the van and can double as a separate bed area too. 
In the Metris Anacapa van conversion, the pop-top makes this mid-sized van become the perfect custom family van for up to 4 passengers to seat and sleep comfortably. When you pop the top, it gives you an extra 4 ft. of standing space and essentially turns a low roof camper into a high roof family travel van. At its tallest point, someone 6'2″ could stand upright and still have room to move. Now you can have low profile driving through streets and fully open when hanging at the beach. 

Alternate bed solutions –  The Cabbunk is a patented rear bunk support system that adds two extra childbeds into the cockpit area of the campervan. This is ideal for children from eighteen months to 14 years old, depending on the height of the kid. A major benefit of this system for younger children with earlier bedtimes is that the rear of the van is unimpeded. This means that little Johnny can be comfortably asleep at the front of the van, while the adults enjoy their wine at the dinette in the rear. 
Which Size Sprinter Van Conversion Do You Need? 
Finding a camper van that is suitable for a large family may seem difficult but it's actually not. We've built a dozen of them and have tailored each one to be a unique family travel van. You want a vehicle with all the amenities that you need to keep you, your partner, your kids, and your pets happy while traveling long distances and parking in the middle of nowhere. Here are specific layouts for each of the most popular sized Family Conversion Vans. 
Sprinter Van Conversion For Family of 3
If two's company, then three's a crowd and that's one thing you don't want when traveling in a van – Being crowded. Chances are you'll be packing the adventure van with toys, gear, food, and all the necessities a family needs on a trip. With that being said, you want your custom family van to be comfortable and roomy because it will make everyone enjoy the trip for longer and further distances.  
Sprinter Van Conversion Family of 4
A larger family typically means a bigger van but that's not always the case. When you have a family of four, the thing that's taking up the most space is the seats – Whether that's a bench row or two bucket seats, that area takes up a good amount of room where you could otherwise build upon. With that being said, here are a few things to consider when designing a custom sprinter van conversion for a family of four. 
Add

flarespace flares

so you can sleep from side to side which will shorten the length of your bed and add more room to build or move around. 

If you are sold on a shorter wheel-based Sprinter van (144') put some thought into adding a pop-top. That way you can have lots of room below and a full-sized bed above. 
What to Consider When Designing A Custom Family Van 
The first thing to consider for your family is whether a Sprinter Van Conversion Or An RV is Right For You. When you've come to the conclusion that a family travel van is the most ideal mode of transportation you'll need to find a conversion company to work with – Unless you are doing your own DIY van conversion. Here at ADF Sprinters, we've built a variety of family conversion vans of all different sizes and needs. That means we have the knowledge, experience, and means to design and build one exactly to your lifestyle. 
There are only a few factors that will affect the size of your family travel van and the van conversion itself. Here are a few factors that will affect which one is the best conversion for your family. 
How old are the kids:

When the kid(s) are young, you won't need dedicated space for them to sleep, just seats. You can use a cabbunk like the one we mentioned above, or a

front cab air mattress

that utilizes the space that would go unused at night. 

How much room do you need:

A family conversion van really depends on what the family will be using it for. Will the campervan be a place where the family will only sleep at night and travel during the day? Or will it be set up for entertaining, cooking, eating, and cohabitating in the van? 
Here's a list of a few of the best conversion vans for families that we've built who are on social media –