The One Vehicle to Rule Them All
A common misconception around campervans is that they're used for just that, camping, but that's not always the case! In a world of remote working and the rise of minimalist living, vans have become the answer for many. At ADF Sprinters, we have helped families of all sizes, couples, and individuals build their dream campervan while still providing them with a cutting-edge daily driver. We understand that having a vehicle that works with all facets of your lives is key to a successful campervan, and we have just the solution for you. 
The Ultimate Family Travel Van
When looking for a reliable family vehicle, you may be considering a larger SUV. Of course, you can travel with everyone and all your gear, but taking it one step farther and choosing a campervan allows you to do both while tailoring the design and layout specifically to your family's lifestyle and recreational activities. It may seem like a big step, but with proper preparations, you'll find incredible fulfillment and endless memories when in a customized van designed just for your family. To get excited about this next adventure, read the Fundamentals of Family Travel.  
So which layout do you choose? The answer is the one that is most conducive to you and your family's size, lifestyle, and activities. For example, do you want everyone to be able to sleep in the van? Or is getting everyone to and from a destination more critical? Will your adventure van double as a mobile office when on the road? Do you want a kitchen? If so, what amenities do you envision? Is an enclosed interior bathroom important? All of these are essential things to consider, but we can help you along the way.
Some of our favorite family conversion layouts have involved the Dinette Rear Seating, Bunk Beds, and Pop-Tops. Of course, each layout will be able to travel and sleep a different number of people, but read more about the alternate layouts that have worked with families in the past, read the "3 Types Of Family Conversion Vans" blog here.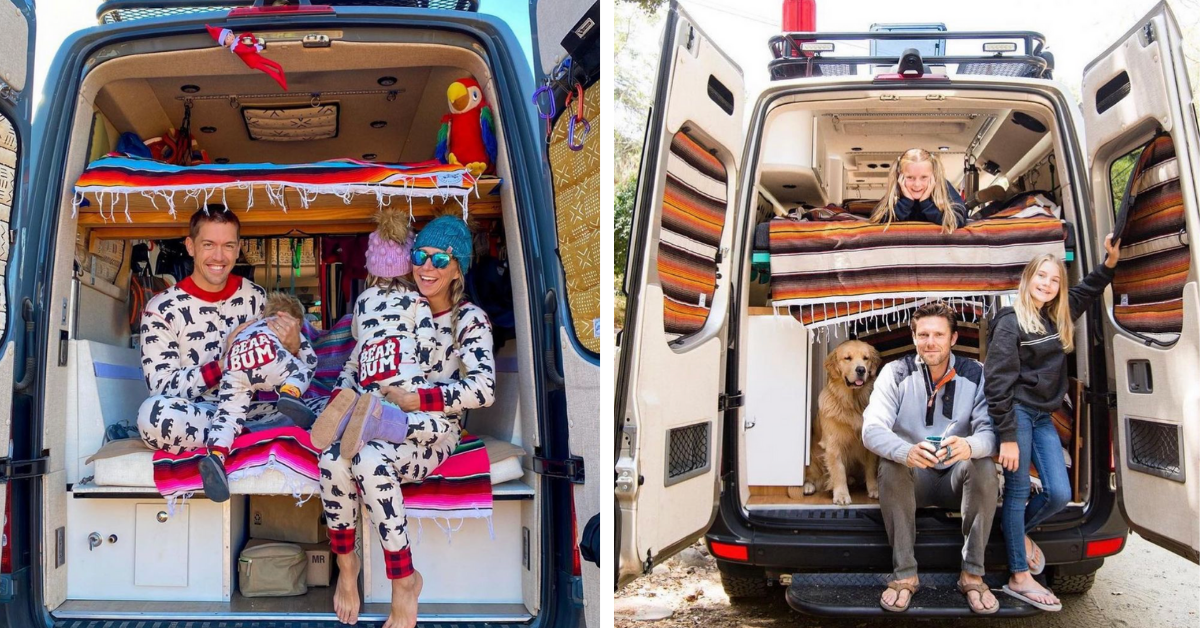 Here are the main reasons you can use a campervan as a daily driver – 
Room to Bring Everyone and Everything 
You may be looking at a Chevy Tahoe, Ford Expedition, or a Honda Pilot for larger families. These vehicles are great as they can seat up to 8 people, carry a large amount of gear, and travel everyone comfortably but consider taking your search one step farther. Choosing a Mercedes Sprinter will offer you the same benefits as an SUV, but your van conversion will be more adaptable and fun for your adventurous family. In a campervan, you have the choice to travel up to 11 people, sleep up to 6, making it great for not only your camping adventures but also taking the kids (and the team) to and from practice when needed.
When considering your storage options, you won't be short of answers either. From interior cabinets, an under-bed garage, an exterior roof rack, and more, you'll have enough space to keep everyone's personal belongings plus your adventure gear. 
You Can Go Everywhere 
Well, almost everywhere. There are a few exceptions, like drive-throughs and parking garages, that you might have trouble clearing .Outside of that, your destinations are endless! 
Having a 4WD vehicle offers you superior traction allowing you to cover a variety of terrain. Whether you're driving strictly on city streets or taking your van down rocky gravel roads that lead you to your favorite dispersed campsites, a 4WD can handle it with ease. 4WD will also help you navigate those harsh storms and tricky weather conditions so that you can still travel to your favorite snow-covered mountain each winter or drive up on a soft summer beach. 
The West Coast isn't shy to off-roaders, so we listed some of our favorite 4×4 locations below, but if you are looking for a more extensive list that covers beach trails to the inland valleys, read here. 
Alpine Loop Trail, Colorado 

Just five hours southwest of Denver, this 63 mile long trail takes you through several ghost towns, over 12,000 foot passes, and while mostly accessible by 2WD, 4WD is recommended as you'll be able to see all the best views along the way. 

Fish Creek Wash, California

This trail is located in Anza Borrego State Park just off California Route 78. It's a geological wonderland with over 20 million years of history and will be exciting for everyone in the van. 

Cleghorn Ridge, California 

This San Bernardino Mountain, 14 mile point-to-point trail, is heavily trafficked but because of good reasons. The views are incredible and feature beautiful wild flowers in the spring. 
A Traveling Home Base 
For many, traveling is a way to get away from home and explore something new, but that doesn't mean you have to leave the comforts of home behind. Sometimes limiting your packing list, getting on a plane, sleeping in an unfamiliar bed are all things that can be stressful, but with a campervan, some of those travel stress triggers can be eliminated. 
Having a home on wheels allows you to create yourself a small space that provides you everything you need from destination to destination. So whether that's a fridge full of your favorite snacks, blankets from your bed at home, plants, games, or any other trinkets, you can genuinely call your sprinter a home away from home. 
While you never want to have to use your van for this purpose, it's also an excellent vehicle for loading your family and essential belongings in case of an emergency. This is one of the main reasons Nick got a van conversion for his family. In addition, in California, homes are more prone to evacuation due to wildfires, so having a quick getaway vehicle offers another level of safety and comfort you may not have in a car. 
Your Mobile Office
When you're not using the van for travel, your Sprinter van can quickly transform into your creative art studio, mobile office, or simply a great way to picnic on a Sunday morning. In 2021, 1 in 4 employees were working from home, but this doesn't mean working surrounded by four walls. With your van as an office, you can work from anywhere, and the location can be different every day.