Is A Sprinter Van Conversion Or An RV Right For You?
We get it – You're indecisive about whether you want a sprinter van conversion or an RV as a travel vehicle.
Even though both a sprinter van conversion and an RV are excellent ways to travel the country, they do serve different purposes. Today, our job is to break down the pros and cons of each travel vehicle so you can easily determine whether a sprinter van conversion or an RV best suits your lifestyle. Easy enough? Let's break it down.
Here are the following sections:
Comparing Vehicle Size 

Comparing Vehicle Storage & Storage Space 

Comparing Vehicle Customization 

You Will Want A Sprinter Van Conversion If…

You Will Want An RV If…
The Difference Between A Sprinter Van Conversion and an RV
1. Comparing Vehicle Size
Size matters when you're on the move. In fact, size is the most important difference between a sprinter van conversion and an RV. Sprinter camper vans are generally much smaller than RVs, especially when comparing to a Class A or Class C motorhome. 
Consider this rule of thumb, the bigger the rig, the harder it will be to drive and access certain places. If driveability and accessibility seem like a priority to you, then a sprinter camper van will be the best decision you've ever made. Before we continue on, let us quickly elaborate more on driveability and accessibility. 
In general, sprinter van conversions are king when it comes to the ultimate adventure vehicle. Sprinter vans allow the utmost freedom to go wherever you want, especially if you have a 4×4 Mercedes sprinter van. If you don't want to ever be limited to where you can go, for example, dispersed campsites, off-the-grid destinations, sketchy dirt roads, etc., then you want a Sprinter van. 
Size also matters if you're constantly driving on windy roads, mountain passes, and in general, long road trips. Simply put, sprinter vans are easier to drive than an RV because they are smaller.  Also, the Sprinter is small enough to use as a daily driver around town or in the city if you have a 144" wheelbase Sprinter van. If you already have an RV and are interested in downsizing to a Sprinter conversion van, the switch can be effortless with the right mindset.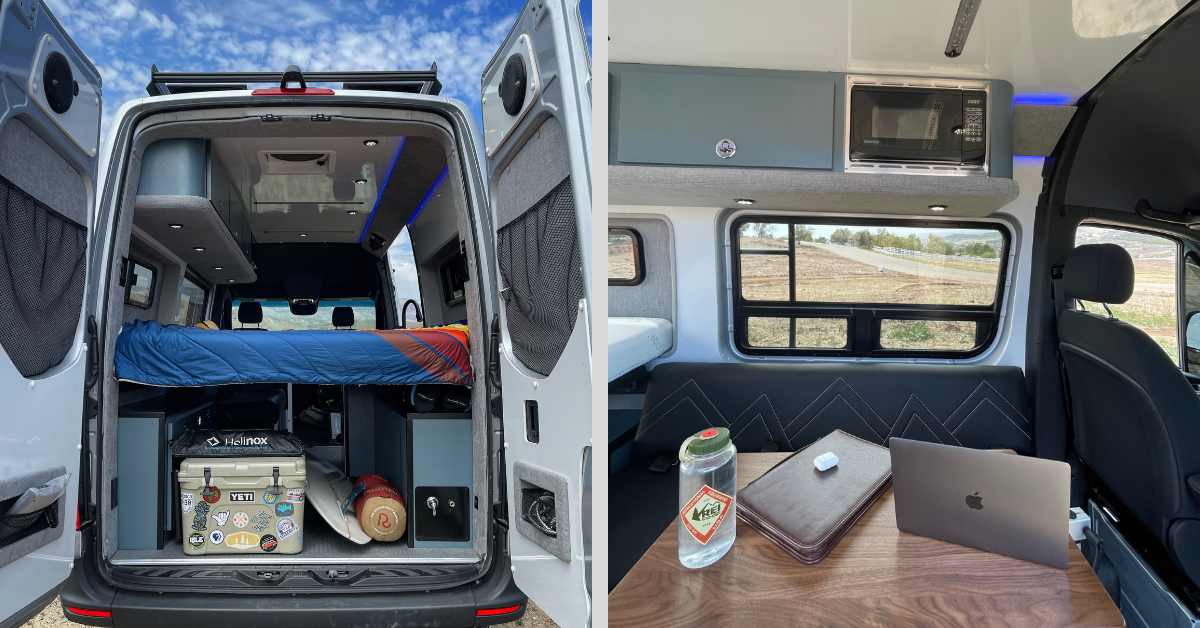 As stated earlier, RVs are bigger. Sometimes bigger is better depending on your lifestyle. If you only fancy staying at a designated campground with full hookups when you travel, an RV is ideal for this setup because it allows you to fit and bring most of your belongings with you. Furthermore, if you want to bring the whole family along for the trip in one vehicle, an RV has enough room to provide that for 5-8 people. Whereas, a sprinter van can comfortably sleep 2 (and 2 children).  
Another element to consider when comparing vehicle size is fuel efficiency. Sprinter vans are much more fuel-efficient than RVs, saving you a pretty penny on a long road trip. Sprinter vans will get anywhere from 20 to 28 mpg on the highway, while RVs will get you 8 to 12 mpg on the highway. 
2. Comparing Vehicle Storage & Storage Space
Since RVs are bigger, they will be able to store more of your gear. You will be able to bring the whole house with you. Overall, you won't have to leave much behind if that's how you fancy traveling. In comparison, sprinter conversion vans can have limited storage. We write, "can" because you can customize (section 3) your sprinter van conversion to favor storage space over other options. 
Another factor you need to consider when deciding between a sprinter van and an RV is if you have the space to store at your house. If you lean more towards an RV after reading section 1, you will need enough outdoor/garage space at your home to park your RV. If your house or apartment has limited space, then an RV will be difficult or even impossible to store. In addition, if you have an HOA, sometimes they are strict about RVs on your property. 
With a sprinter camper van, you can simply park it in your driveaway. 144 wheelbase sprinter vans are about the same length as a normal-sized truck or SUV. 170 wheelbase sprinter van will be trickier, but still can easily be stored or parked with limited space. Also, you need to think about parking your rig at gas stations, grocery stores, etc while on the road. An RV makes it very difficult to park in any parking lot whereas a sprinter van can fit in a normal-sized parking spot. 
3. Comparing Vehicle Customization
An amazing thing about sprinter conversion vans is that we can customize them however you want. From the floorplan to the appliances to the solar setup to the 4×4 sprinter van accessories, you can have a lot of fun tricking out your customer camper van. 
Believe it or not, Most Sprinter camper vans are never manufactured with a build-out. Every sprinter van comes bare bones and ready to customize to whatever you want with the help of van conversion experts. In today's age, there are a plethora of camper van conversion companies, so it will be easy to find someone to do the job. Since there are so many companies out there, finding the right company for a camper van conversion may seem overwhelming, but it's super fun and is an exciting process. 
In comparison, RVs can only be customized to a limited amount of floor plans. In other words, you get what you get and that's it. RVs are similar to buying a new car. Some upgrades cost more money, but in general, the layout, setup, and functionality are always the same. 
You Will Want A Sprinter Conversion Van If…
You prefer the freedom of taking your adventure vehicle wherever you please without any roadblocks

You want to ride off the beaten path and go off-grid with your rig

You don't have enough space to store an RV at your residence 

You want to be able to pack up and go effortlessly 

You want the option of completely customizing your rig

You like the idea of being able to use your adventure vehicle as a daily driver 
You Will Want An RV If…
You prefer staying at designated campgrounds with full hookups when your travel

You want to take the whole family with you (5+ people)

You prefer the wide-open space most RV floorplans provide

You want to be able to bring tons of gear/belongings with you on your trips 

 
Wrapping Up: Comparing a Sprinter Van Conversion to an RV
Even though sprinter van conversions and RV serve similar purposes, they are very much different from one another when it comes to their purposes. In a nutshell, you will want a sprinter van conversion if you want something easy to drive, allows you to go off-the-grid, and is easy to store at your house. You will want an RV if you plan to mainly stay at a designated campground with full ups where the whole family can tag along under one roof.