The idea of a campervan home on wheels can be traced all the way back to the mid-1800s when Scottish medic Dr. William Stables decided to commission a touring caravan to sate his wanderlust. Since then, the idea has grown exponentially, from 1950s-era American families going on cross-country tours to millennials trading in their full-time 9 to 5 jobs for 24/7 van life in the 2020s. 
Of course, you might still be wondering to yourself, "Okay, cool…but what is a campervan and why on earth would I want to get one?"
If so, you've come to the right place.
What is a campervan?
Campervans—also known as cargo vans, caravans or campers—are class motorhomes (B) that provide both transportation and living/sleeping accommodations for their occupants. This is not to be confused with a cargo van, which comes equipped with storage space. A campervan is a regular van that is converted to accommodate long-term, live-in travel for its occupants. Here are the 6 benefits to owning a campervan. 
Most commonly built on RAM ProMaster, Chevy Express, Nissan NV, Mercedes-Benz Sprinter, and Ford Transit cargo van bases, campervans can come to life from almost any popular van on the market, as long as it meets your needs for size, speed, mileage, and any other details you might want to consider as a van lifer. 
With a rich history that provides a powerful tool to those who enjoy picking up and taking off at a moment's notice, a campervan is much more than a means of transportation or even a place to lay your head.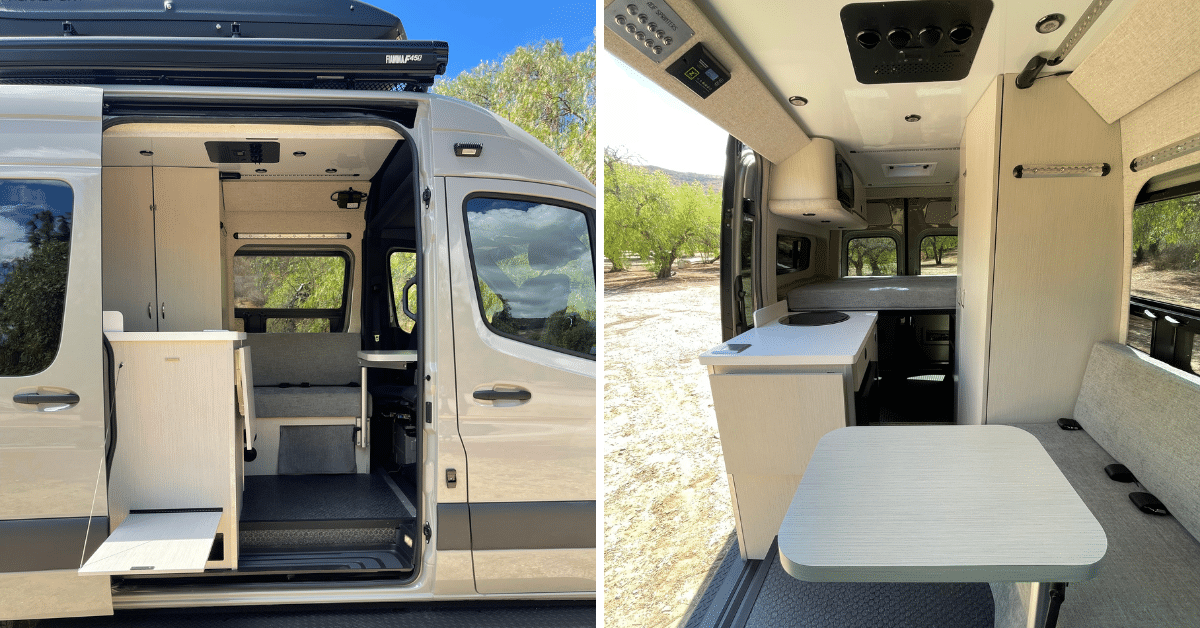 A campervan is an imaginative, boundary-breaking way of living. It signifies a dedication to consistent change and forward motion, tightly bonds you to whoever accompanies you on your journey (whether that be loved ones or yourself), and acts as the most flexible living area yet— an aspect that is increasingly important to people younger generations.
Depending on the size, you can transform your campervan into a thriving home equipped with storage space, living and dining areas, and maybe even a small kitchen if you plan properly.
But before we get into the details of campervan features, let's first discuss one of the most commonly-asked questions by newbies in the van life space: What is the difference between a motorhome and a campervan?
What is the difference between a motorhome and a campervan?
Newer van lifers are more likely to be confused by the differences among recreational vehicles, and campervans are often mistaken for motorhomes. 
A simple way to remember the difference between motorhomes and campervans is to refer to the name itself: a motorhome is a travel vehicle that was designed with comfort and living-in features in mind, while a campervan is borne from the need for comfort, which comes to life via a regular van to conversion.
A campervan conversion will provide you with a little more freedom, as you can customize them exactly as you'd like depending on what you are looking to accomplish with your travel abode. 
They also tend to be easier to drive than motorhomes, which are usually wider, have taller roof heights, and are more likely to use a diesel engine. Conversely, motorhomes are ideal for people who are looking for a bigger setup, a longer stay at a campground, or room for a larger group of people.
However, if you've come to this article as a new van lifer who wants to take off with limited resources and a low level of commitment, you'll want to focus on campervans when you're on the hunt for a recreational vehicle that has all of the features you need—without being too bulky for a long-term haul.
5 Best Campervan Features
When weighing the pros and cons of campervans versus other recreational vehicles, it's important to take a look at some of the best campervan features so you can figure out which style will fit your needs as a nomad.
A campervan conversion can look very different depending on what you want to add on, but in general, they can cost anywhere between $40,000 and $200,000 without including the initial purchase of the van. A project of this scale can take anywhere between six and eight weeks to complete—again, depending on the scope of your conversion process.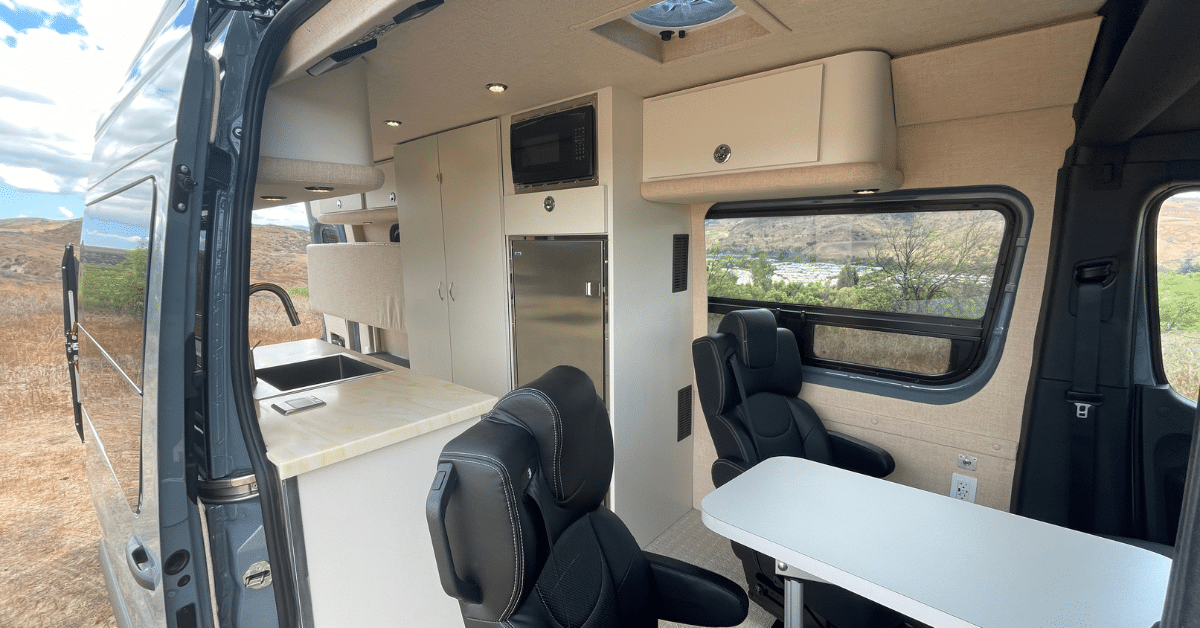 Here are some of the best, most common features that can be worked into your campervan conversion process:
Sleeping Accommodations
Of course, the most obvious feature is the ability to sleep comfortably. Whether that be a bed, a snug area fit for a sleeping bag, or something else that matches your desired comfort level, it's absolutely essential that your converted campervan comes equipped with sleeping quarters.
Storage
Another important detail that is often included in a campervan conversion is a good-sized storage area. If you're traveling around the country in your van for months at a time, you're going to need a lot of stuff with you—and that means you're going to need somewhere to store it all.
Roof Rack
Speaking of storage: many campervans also include a roof rack, which allows you to store larger items on top of the vehicle as you travel (like a surfboard, boogie board, canoe, water skis, bicycle, etc.). This also frees up more space inside the van itself, which allows for even more storage potential.
Kitchen Galley
Many campervans will feature a kitchen galley. Depending on the size of your vehicle, this could include a refrigerator, stove, sink, and even an oven.
Dining Area
If you're cooking in your campervan, you'll probably also want to have a designated area to enjoy a meal with your loved ones, campground friends, or yourself. If your van allows for this space, we definitely recommend adding it on.
4 best vans to convert into a campervan
Wondering what's the best van to convert into a campervan? We've mapped out some of the most popular vans that van lifers have transformed into their dream road homes for your perusal and inspiration.
Mercedes-Benz Sprinter
This van is by far the most popular make and model for campervan conversions because of its versatility—a feature that is absolutely ideal for nomads. Van lifers can decide between a high or low roof, and the van will last loyally for up to 300,000 miles with regular maintenance and care.
Ford Transit
The Ford Transit is another popular make and model for campervan converters. The van has a high roof, providing maximum potential for storage. Van lifers have equipped Ford Transits with electrical, water, and propane systems, along with climate control features and other amenities that are ideal for living on the road in any climate.