Wheelbase for your Sprinter Van Conversion
If you're shopping for a Mercedes Sprinter van to convert, you've probably debated between the 144" wheelbase and the 170" wheelbase. With overall vehicle lengths ranging from 19 '6" to 24', each model offers its advantages and disadvantages in terms of usable space, buildability, ease of maneuverability, and more. For this blog, we will focus specifically on the 144" wheelbase and the 170" wheelbase to help you decide which option will suit you best for your van life adventures. 
Sprinter 170" Wheelbase 
With over two decades of van conversion experience, we have seen tons of layouts utilizing the 170" wheelbase Sprinters. Most families, couples, or solo travelers enjoy a more livable space with the ability to move around freely and comfortably when inside the van. The more area you have available, the more you're able to convert, making it more comfortable when traveling and relaxing. The additional space also allows one to keep things a bit more organized, especially when an interior bathroom/shower structure is part of the design. 
Dimensions – 
Bumper to Bumper Length: 22' 10"

Exterior Height: 9' 5" (Typical Drive-Thru Clearance is 9')

Interior Standing Height: 6' 2" (When Paneled)

Interior Cargo Length: 14" (From the rear doors to the driver's seat)
With these dimensions, you have the freedom to design a more advanced layout that is conducive to your lifestyle and ultimately build a van that has everything you want without compromising additional features. With a 170" wheelbase Sprinter campervan, you can fit a queen-size bed, fully enclosed bathroom, an expansive kitchen and comfortable seating for the entire family. The opportunities are endless, and the space becomes a luxury for can be a home on wheels. 
Here are some of our favorite 170" and 170" EXT Conversion Layouts. 
Sprinter 144" Wheelbase
The Sprinter 144" wheelbase van might be the most popular chassis in the Sprinter lineup. Owners of this wheelbase Sprinter find the shorter wheelbase makes for an easier time on both city streets and tight overland trails. The extra maneuverability allows you to effortlessly travel to whichever urban or remote location you desire, and even park in a standard space at the grocery store. If you plan to bring along your trusty mountain bikes or stand-up paddleboards, be prepared to get creative with your interior and exterior storage design because space will fill up quickly.
Dimensions –
Bumper to Bumper Length: 19' 6"

Exterior Height: 9'5" (High Roof)

Interior Standing Height: 6'2" (High Roof) when paneled

Interior Cargo Length: 10.5' (From the rear doors to the driver's seat)
With dimensions like these, you can still have a detailed layout; however, you are limited on the amount of space luxury you would have if you went with the 170" wheelbase. While it's possible to still have all the amenities and features as the 170" we described, it will be much more compact and many features will need to serve multiple purposes. 
Here are some of our favorite 144" Conversion Layouts that are family-friendly and built for adventure. 
170" vs. 144" Wheelbase Comparisons
Driving 
Whether you plan to drive on paved roads or venture out to more remote trails, there are a few differences to know between the drivability of the 170" wheelbase and the 144" wheelbase. 
Parking
With a vehicle as long and tall as the high roof Mercedes Sprinter, you want to make sure you can still use it as a daily driver when needed, which means knowing where you can park it. One considerable debate between both wheelbases focuses on which one can be parked, and where. While the 144" wheelbase fits easily in a standard size parking space the 170" wheelbase Sprinter will likely stick out a good amount. Ideally, park your 170" wheelbase sprinter in a pull-through double spot.  Pro tip: find parking spaces with lots of overhang space on one end, back your van into the spot to avoid poking out into the driving aisle too much.  
Drive-Thrus & Garages 
If you choose to go with a high roof sprinter, then you can say goodbye to most drive-thrus and parking garages, as they typically only have a 9-foot clearance. Be wary of any posted signage below 12 feet. It's better to be safe than sorry as roof repairs are incredibly costly. When in doubt, get out and check. 
Off-Road Driving
Typically, the people purchasing campervans and adventure van conversions are also actively looking to explore the most beautiful parts of the United States to search for adventure. That means venturing to desolate locations that are off-grid and often difficult to get to. While you shouldn't expect to take either wheelbase rock crawling, a 4×4 Sprinter will surprise you with its capability to handle rougher trails that bring you to remote destinations. Between the two, you will find that the 144" is more agile because of its more desirable turning radius, break-over angle, and departure angle. That should not deter you from choosing a 170" though, but be mindful of the extra space needed to clear tight turns or exaggerated obstacles which might get caught up on the belly of the van. The bottom line is, pick the vehicle that you will feel most comfortable and confident with when driving. If you aren't sure which one is yet, try renting a campervan for the weekend to test out different wheelbase options. You can do so at Outdoorsy.com and our rental page ADF Sprinters Rentals. If you choose to rent through ADF Sprinters, you will receive a credit towards your conversion purchase. 
Miles Per Gallon
If you're comparing a 144" to a 170", the 144" will perform slightly better. This is because the 170" will likely be heavier with its more extensive build-out. In most cases, vanlifers found that their van of any length became less fuel-efficient after installing exterior accessories and upgrading to their wheels and tires. Ultimately your fuel efficiency will be most impacted by the total van weight, exterior components which increase drag, and larger tires. One of the most important variables with fuel economy will also be driving habits. Drop your highway speed from 75mph to 65mph and you will see significant returns on mpgs.  Pro tip: a larger diameter tire will cause your van's speedometer to read incorrectly, but also make your fuel economy appear lower than it actually is. This is because the van travels a farther distance for each revolution of the tires. For example, upgrading from the stock 245/76/R16 tires to 275/70/R17 tires will make your speedometer read roughly 5% low. This means that if your speedometer shows 65 mph, you're actually going 68 mph. It also means that if you're showing 16mpg, you're actually getting 16.8 mpg. 
When is it time to upgrade your 144" to a 170"
If you're asking yourself this question, it might already be time!  Having the extra three feet of space to move inside your van can make a big difference, especially when your group becomes larger. It also means you'll be able to have an upgraded layout that can offer you the ability to separate your bedroom from your galley area, office space, etc. We generally recommend conversions that require a full bathroom upgrade to the 170" wheelbase where possible. The extra space is a life saver for keeping space to move about the interior and not have all of your gear piled high under the bed. 
Best 170" Wheelbase Family Layouts 
The RV industry has seen increased diversity and double digit growth over the last few years, with record numbers in 2021. Part of that is a huge uptick in families looking to convert vans with specific features for their whole crew. We help design layouts to work just for them with144" to 170" and even 170" extended wheelbases. The conversions we list below are perfect for families of four looking to travel and sleep in the van, but the list doesn't stop there. Click here to see our list of family-friendly conversions for families of all sizes. 
The Nick
This bunk bed conversion is perfect for taking your family off the grid and enjoying some of the most remote locations. With a kitchen, garage, and a handful of exterior accessories, you will be able to take everything you need on your next road trip. Watch the full van conversion tour

here. 
The Meerkat
This van is the ultimate getaway campervan and is ready to take you on your next adventure. This conversion features four captain seats with swivel bases and three beds. Two of which are bunk beds and provide garage space underneath.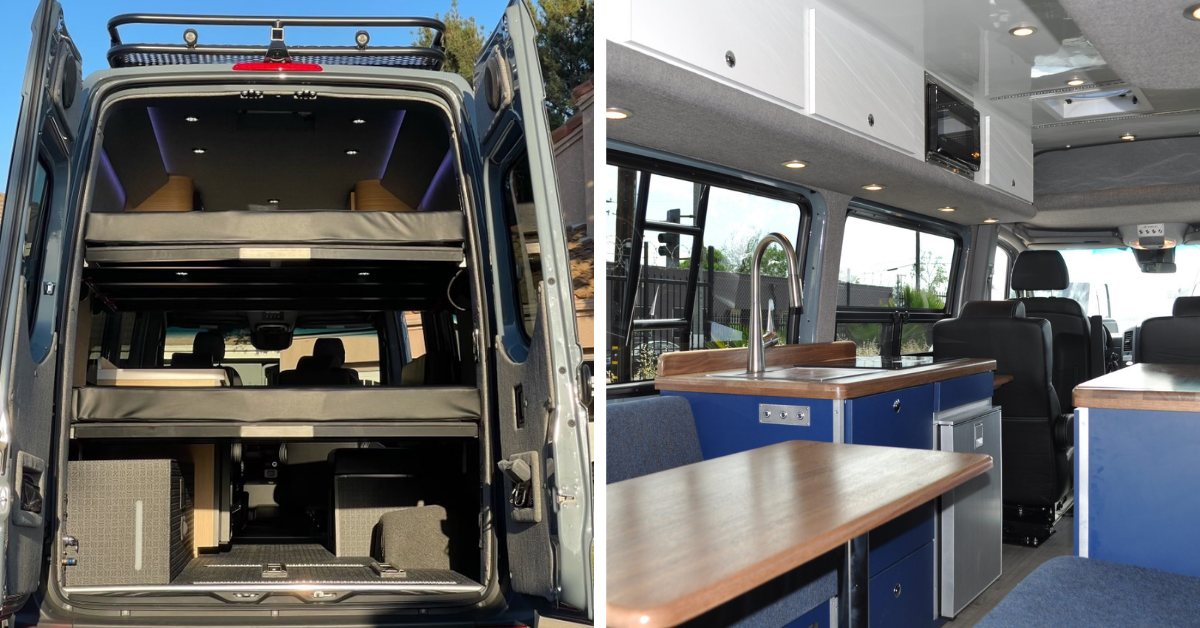 If you would like help deciding what layouts may be suitable for you, reach out to our team at [email protected].  We can show you all your possibilities in both wheelbase sizes.