So you're ready to convert a Sprinter Van into your dream adventure vehicle. You might be weighing the pros and cons of a DIY build vs. having an upfitter convert it for you – But regardless of which direction you go, the first step is to design a floor plan layout that fits your lifestyle and family needs. 
ADF – A Sprinter Van Conversion Company 
ADF Sprinters is a Mercedes-Benz Master Upfitter specializing in one-off camper and adventure vans. With over 20 years of experience in this industry and a 30 person staff that specializes in their specific field, ADF has the skills and knowledge to create the most value-driven campervans on the market. Each van conversion is custom designed and hand-built to meet the client's lifestyle demands on the road. While they produce over 100 custom van conversions a year, the real focus is on the quality of the build, attention to details, and providing world-class customer service.
Here are ten campervan conversions that will inspire your future build –
Betty | 2019 Diesel Mercedes-Benz Sprinter Cargo Van
The Betty, which is the first adventure van in the Knowmad rental fleet, was designed around freedom and adventure. Helen (the client) wanted a mobile office to travel around comfortably and carry all of her outdoor gear. With that in mind, ADF designed the interior to have a lot of space and countertops conducive to working on the go. The rear dinette seating converts into a cozy queen-sized bed, and the double upper cabinets offer ample room for storing gear. This campervan also features an aluminum roof rack, side ladder, and running boards, which optimize the exterior capabilities of the van. Helen wanted to share her love of travel and adventure, so she decided to rent this van out to experience van life for themselves and enjoy the beauty of life on the road. To learn more about the full features of this conversion, check out The Helen webpage, where you can also find the full video tour. 
Travels: 8 People 

Sleeps: 2 People

Main Feature: Dinette Floor Plan 
The Ramona | 4WD 2020 Mercedes Sprinter Van Conversion
With The Betty (pictured above) rented out so consistently, Helen needed another van to work and travel out of. ADF took everything Helen learned and experienced traveling in Betty and built Ramona to complement the other campervan in areas we didn't implement before. For instance, this van was made to be an adventure vehicle that could haul additional equipment and support longer trips in more remote locations. This Sprinter van has a custom surf rack that fits two surfboards or any other equipment such as snowboards, fishing poles, golf clubs, and more. The interior has additional counter space and multiple lagun mounts with tables for working or cooking on the road. No matter the weather Helen and her friends will always be comfortable due to the AC and heating units installed. This sprinter van conversion also has an interior shower which offers a space great for hanging any wet gear to keep the rest of the van clean and dry. 
Travels: 8 People 

Sleeps: 2-3 People

Main Feature: Custom Interior Surf Rack 
The Ashwin | Sprinter 3500 4×4 Campervan 
We designed and built this 4WD Mercedes-Benz Cargo Van 170″ Wheelbase for a family who wanted a home on wheels in the most desolate locations. Before this campervan, the clients spent over two years road tripping through Central and South America in a Toyota 4Runner – So they knew a thing or two about life on the road. Knowing this, ADF had the task of creating their next iteration of an epic exploration vehicle capable of going to places without many resources or hook-ups. This particular van conversion sleeps and seats up to four people, has a fully enclosed bathroom with a shower and toilet and a full kitchen and propane oven. Due to the remote destinations that were to be expected, ADF added a total of 61 gallons of water (including grey) and a hot water system. To learn more about this van and all of the fantastic features, head on over to our website, where we talk about every detail. 
Travels: 4 People 

Sleeps: 3-4 People

Main Feature: Full-Size Kitchen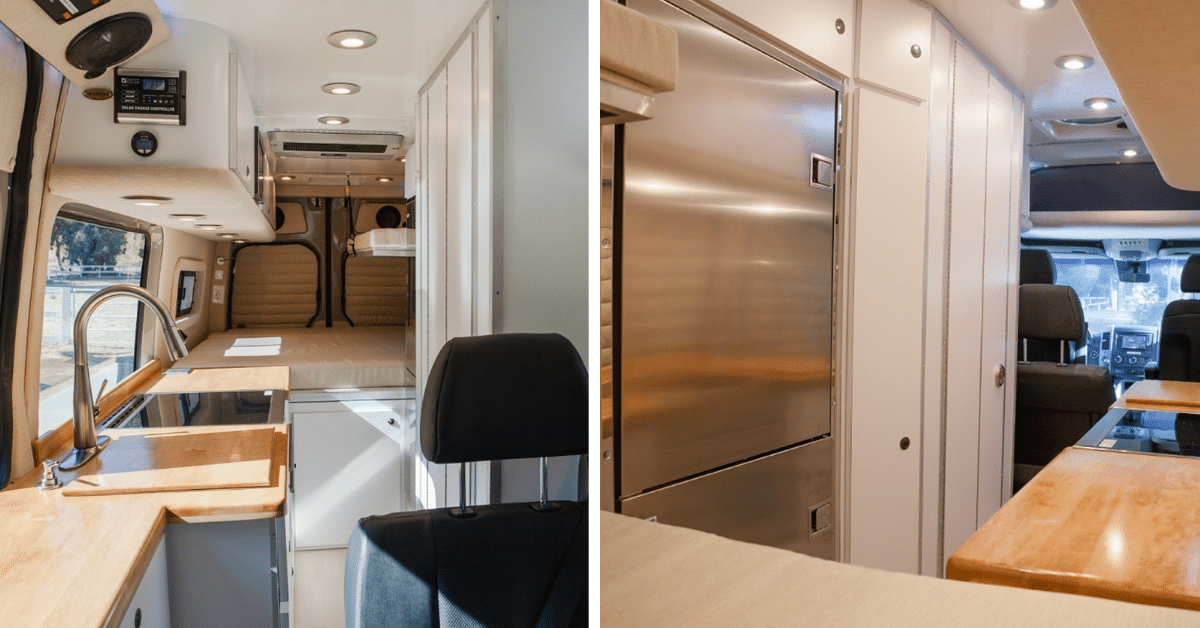 The Bridget | 2019 4WD Sprinter 144
This conversion is perfect for two people looking to spend lots of time outdoors and have some of the same comforts from home. The panoramic windows offer plenty of natural light to brighten up the space and also give you some fantastic views during the day. This campervan's dinette floor plan makes the interior feel very spacious while giving you a place to entertain up to 6 guests seated comfortably. The client just has a fridge, sink, and microwave, giving them the ability to whip something together quickly. However, there is extra space for a portable gas stove right above the fridge to provide them with the option to cook inside or outside of the van. When combining comfortable travel and entertaining space all in one, the Bridget exceeds all expectations.
Travels: 2 People

Sleeps: 2 People 

Main Feature: Double Lagun Mounts | Storage & Drawer Space 
Bruce | 2017 4×4 Mercedes-Benz  Sprinter Crew Van
This specific van conversion is one of the most conducive designs for a family of four looking for the ultimate camping and road-tripping vehicle. Husband and wife team Ash and Margaux and their children are a very adventurous family constantly on the go. Bruce, their campervan, is a short-wheeled-based sprinter designed to haul the gear and provide a relaxing base camp. The absence of the upper cabinets opens up the interior, but they still have ample storage with the bungee cords attached to the l-track. This van has a robust l-track system that creates versatile tie-down anchor points to attach and secure cargo. The dinette setup is ideal for productivity, and whether you are working, eating, or playing games, you'll appreciate the extra surface area. When the family is ready to fall asleep, the rear dinette seats convert into a bed for the parents while the kids sleep in a Cabbunk, a patented bunk bed system that attaches to the front seats. The van's exterior has a custom aluminum roof rack, a pull-up bar attachment, and a side mount SUP rack. For a closer look and deeper dive into the specs of this campervan, click here. 
Travels: 11 People 

Sleeps: 4 People

Main Feature: L-Track Mounting System throughout the van.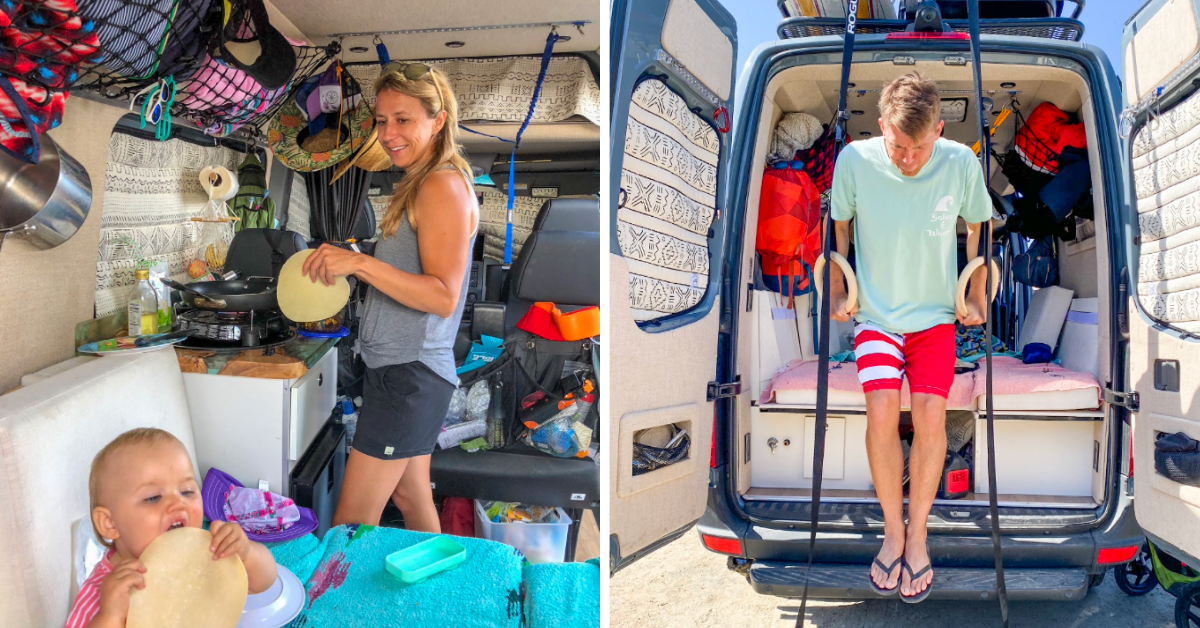 The Sierra Bound | 4×4 2019 Mercedes-Benz Sprinter 170 Van Conversion
The Sierra Bound is what other adventure vans strive to become one day. The layout is perfect for an adventurous couple (and dogs) who enjoy spending most of their time outside and need a vehicle to carry lots of equipment. With both dinette seating and a tri-max bed, someone can be sleeping in the bed while another person has a place to stay up and work. The van has a full kitchen that includes a sink, fridge, microwave, and two stovetop burners. With plenty of drawers and cabinet space, this 4WD campervan can stay off-grid much longer and in more remote locations. This van is exciting for everyone, but it's the perfect match for those who find themselves wanting more floor space inside but still a clean and comfortable look. 
Travels: 6 People 

Sleeps: 2-3 People

Main Feature: Bench Seat that converts into an extra bed.
The Sue | 2018 4×4 Mercedes-Benz Sprinter Cargo Van
The Sue Van Conversion resembles a studio apartment on wheels and is built to seat & sleep up to two people. This campervan has a fixed rear sofa bed with a dedicated garage underneath and 38" of clearance which offers an abundance of space. This interior has intimate living quarters with modern appliances and includes a custom cat tunnel for their four-legged friend! The owner chose reflective white FRP (Fiberglass Reinforced Paneling) to give the interior a very bright, spacious feeling, along with walnut countertops that work as the perfect contrast. 
Travels: 4 People 

Sleeps: 2-3 People

Main Feature: Raised Fixed Bed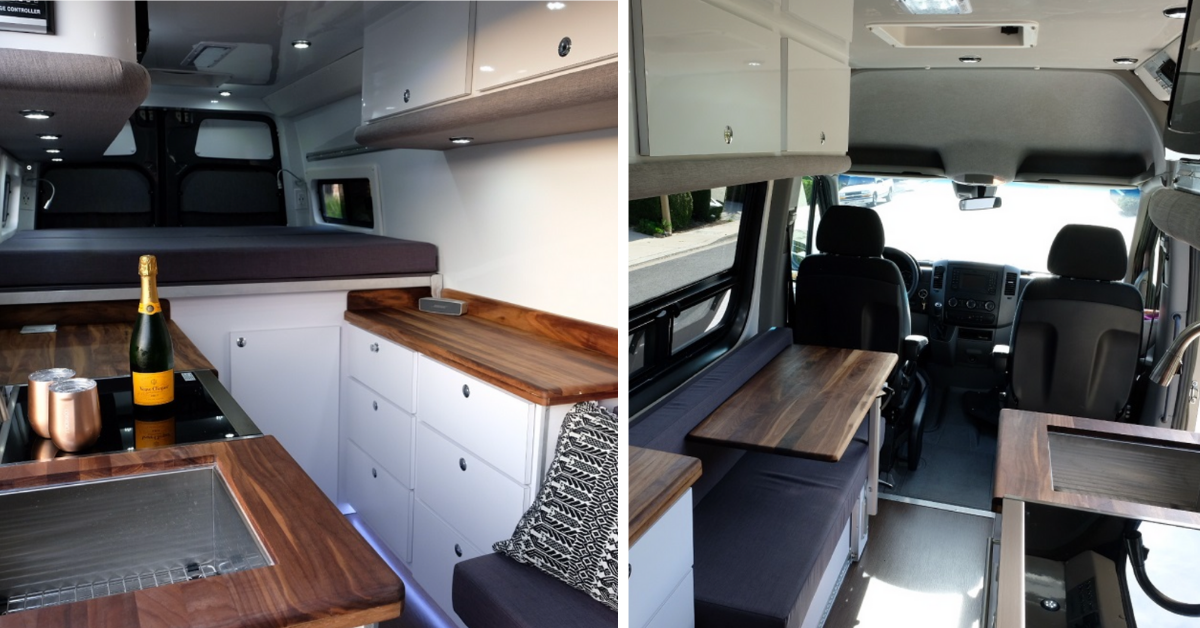 The Casa | Mercedes 144 2WD Cargo Van 
True to its name, The Casa is a converted sprinter van with a mobile home and office on wheels. This four-person campervan never felt cozier with its compact layout and versatile design that can go wherever the road will take you. Whether you're traveling long distances, hauling something big, or just going for a quick getaway, this conversion can do it all. Because the Tri-Max bed can fold up against the wall, you can pack and travel more – Or just enjoy more standing room when stationary. The kitchen includes a sink, fridge, microwave, and extended countertop, so cooking inside is a breeze. 
Travels: 4 People 

Sleeps: 2-3 People

Main Feature: Tri-Max Bed
The MLB Dreamer | 170 extended 3500 4×4 Mercedes Sprinter 
The MLB Dreamer is a camper van that was built with comfort and convenience in mind. The purpose of this family travel van was to visit every MLB stadium in the country – A total of 36 stadiums. Typically, the biggest issue for large families is not having enough room to sleep everyone comfortably. Configuring two beds with a kitchen and storage can be challenging; however, a unique feature in this van conversion is the Happijac Power Bed Lift which brings down a full-sized bed from the ceiling with a push of a button. As for a second bed, the dinette seating converts into a lower bunk bed with memory foam cushions. This van also has a kitchen and bathroom, including a toilet and half shower that pulls out from one counter. From long road trips to weekend getaways, this layout is ideal for a family on the go with all the features, amenities, and power to keep up with a busy lifestyle.
Travels: 5 People

Sleeps: 4 People

Main Feature: Happy Jack Bed
The Meerkat | 2018 4×4 Mercedes-Benz Sprinter Cargo Van
The Meerkat is the ultimate getaway campervan for a family of 4. This Sprinter van conversion has four captain seats with swivel bases and three beds, two of which are bunk beds. Because of the long wheelbase, the client could also add a full kitchen, shower, and two places to set tables. It also has plenty of storage with two sets of upper cabinets, drawers in the galley, and a garage in the back of the van underneath the bunk beds. Due to the additional six seats in the back dinette, this adventure vehicle can legally seat up to ten people – So no need to leave anyone behind! 
Travels: 10 People 

Sleeps: 4 People

Main Feature: Bunk Beds and Dinette 
Are You Looking to Build a Sprinter Van Conversion?  
Now that you've seen the various layouts, features, and campervan conversions, are you ready to get a quote? As we mentioned earlier, ADF Sprinters has been in the van conversion business for decades and has a tremendous amount of experience. From sourcing the van to designing and building the conversion specifically for your lifestyle, it's a one-stop-shop. Here is some other great information to read over if you're still deciding. 
To learn more about any of the conversions above, please visit our website, or reach out to our team at [email protected].